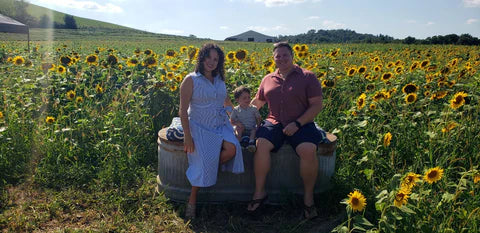 Our why
What sparked it all, the runrun story.
Letter from the founder:
It feels wild to think that runrun was started by my frustrations of looking for a wooden rainbow stacker for my toddler. I went to Target, Walmart and a local second hand store, only to come back empty handed and with a very annoyed toddler. I was exhausted. I had went to three stores that sold kid toys and was overwhelmed disappointed with every option. I ended up having to buy a rainbow stacker off Amazon and spent way too much time searching for a brand that wasn't made cheap or with toxic paint.  How could it be so hard to find simple toys? How could there not be a kids store in ALL OF ST. PETE??? 
After tons of planning and research, we are excited to launch phase 1 of our little kids shop at St. Pete Pier. We are excited to offer a multitude of toy options for NB - 9 yrs. We've found brands with eco conscious and non toxic missions. In our search bar, you can refine your search for products such as Waldorf inspired, Montessori aligned or even woman owned businesses. Allowing you to not only choose a toy your little one will love, but also that aligns with any of your ethics. 

Our goal with runrun is to provide intentional items for parents. Here you will find many wooden toys that wont require batteries. That foster imagination, problem solving and creativity. 
~play intentionally~